Abaya Casual Bird Bghabghan one Size Fit For woman
11,96$
Brand: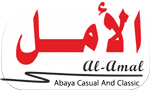 Alamalshop
Excellent raw material, very soft on the body
One size Fit from 60 to 110 kg
Estimated Delivery: Oct 03 – Oct 05
---

Abaya Casual Bird Bghabghan is one Size Fit For the woman
The design of woman clothes come with summer and spring colors for more excellent look
you find your flow in these woman's clothing soft tough materiel and modern stylish
This Abaya casual is designed for looks and ease, made to be breathable and built for comfort.
Feature
Beautifully textured abayas
Perfect comfort wear
Three Quarter Sleeve
long length
solid
Embellished Birds embroidery wool
fabric good mixed cotton
Colors beautiful choose
 BLACK, White, Blue, YELLOW, GREEN
type: abaya casual
brand: Alamalshop
every day using
wear accessories with it
one size fits all body from 60 kg to 110 kg
Pattern solid with embroidery bird wool feature gives an Excellent impression for your appearance.
for all occasions like going to the beach and club or Reception your family and friends.
in addition walk on the Corniche
Useful Abaya online Woman's clothing for everyday use.
Three-Quarter-Sleeve Can wear with hijab and scarf, besides, give you more freedom to choose colors wrist stretch wear.
also your accessories like sunglass on a walk to the sea
Embroidery wool ship birds high density – Beautifully coordinated colors, remarkable.
On the other hand fabric material, mixed cotton textured is very comfortable and high quality.
The genius of gallabaya design Looking of details are very amazing and perfect with embroidery wool with the colors of summer and springs
What to wear as a scarf with abayas?
Women wear a headscarf that is called the Shela that covers their hair. It is mostly black and is of a very light material that is breathable too.
Most women go for designer scarves that may even be matched with the handbags they choose.
For getting a more traditional look, wearing the Gishwa is also an option.
This black veil covers the whole face and is thin enough to see out of, and nobody can see the faces as well. The third option is the Burqa that only shows the eyes.
Altogether all of these garments are known as the Hijab, which means a covering for the head.
Why do you need to wear it?
Many women like wearing an abaya to show off their modesty.
Such a clothing item is mostly perfect for wearing in higher temperatures, dusty weather, and religious beliefs.
An abaya may be a simple black garment or a highly adorned one with different base fabric colors.
It goes as the wearer wants it to be. You can go on and pick your favorite casual abaya dresses that a fashion designer at Alamal Shop designs.
Shop now!
Say goodbye to the days of wearing the same old clothes. With our abaya dress, you can now show your culture off without having to expose so much skin.
You can go from head to toe in modesty with a dress store.
Want to look good and feel good? Try our dress! You get more than just a fashionable dress with this purchase.
Our dress is perfect for religious occasions, weddings, or any other formal occasion. What are you waiting for? abaya casual Shop now is best dress.
What are the best and safe online Islamic clothing stores?
Buying an Abaya may be a very exciting experience when you luckily find out the ideal fit you wanted to wear for so long. But luck seldom works here, and you have to pay enough attention to details and choose the Abaya that appeals to you.
Abaya is also called a Burkha or a Chadaror gallabaya.also in some area called casual abaya dresses or islamic dress.
Women in Islamic regions and those that practice Islam wears this piece of clothing as an overall covering of their bodies.
Though the loose style is trendy, women also like trying out different cuts, styles, colors, and embellishments over their abayas to look modern and modest and quite outstanding.
A bridal dress's style, color, or importance of a gown depends upon the religion and culture of the area.
abaya casual?
We all know that Abaya is thought of as a modest outfit that you may wear at any place and time.
As it is classy and modest, you can make any color look good.
These dress types help women cover their bodies and also look unique as abayas may be worn on any occasion having simple details and a few unique solid colors that would enhance the beauty and give you perfection.
But when you are shopping casual Abaya dresses online, you have to be keen to find the perfect match.
We have the following suggestions that you can follow and not spend money on faulty items.
Fabric care
what in the package: one piece
Buy now
Cash in delivery in Egypt only
shipping 1-3 day delivery
24 hours track number
easy cancellation
Refund & return 14 days in Egypt only
If any more questions ask us directly
Please, Call us +201003715333 or whats up
following Alamalshop on Facebook and like us
| | |
| --- | --- |
| Weight | 0,2 kg |
| Dimensions | 50 × 30 × 1 cm |
| Type | |
| Pattern | |
| Fabric Type & Material Composition | |
| Embroidery | |
| Size | |
| Color | BLACK, White, Blue, YELLOW, GREEN |
| Occasion | |
| Neck Style | |
| sleeve Length | |
| Target Group | |
| Brand | |
| Production Country | |
Only logged in customers who have purchased this product may leave a review.
Write a review