Abaya Belt Casual For a Woman
14,00$
Brand: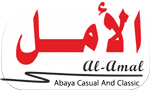 Alamalshop
Embellished Abaya Belt Pure Luxury
One size Fit from 60 to 110 kg
Estimated Delivery: Oct 03 – Oct 05
---

Abaya Belt Casual For a Woman
Abaya Belt embroidery brand Alamalshop
The design of woman clothes come with summer and spring colors for a more excellent look
you find your flow in these woman's clothing soft tough materiel and modern stylish
This Abaya belt is designed for looks and ease, made to be breathable, and built for comfort with maxi dress.
Feature
Nice style
Embroidery wool normal
Perfect comfort wear
embellished abaya pure luxury
long length maxi and wide
solid
fabric good mixed cotton
Colors beautiful choose black, blue, green, purple
type: abaya casual
brand: Alamalshop
every day using
wear accessories with it
one size fits all body from 60 kg to 110 kg
Pattern solid with embroidery wool normal gives an Excellent impression for your appearance with a belt for all occasions like going to beach and club or Reception your family and friends.
also, walk on the Corniche
Useful Abaya Belt with embroidery casual Woman's clothing for everyday use.
Three-Quarter-Sleeve Can wear with hijab and scarf. besides, give you more freedom to chose colors for wrist stretch wear.
also your accessories like sunglass on the walk to the sea
Embroidery wool Normal density – Beautifully coordinated colors, excellent.
On the other hand fabric material mixed with cotton textured is very comfortable and high quality.
The abaya design Looking of details are very excellent and magic with embroidery wool with a belt for summer and springs
Brand Alamalshop
Alamalshop is a well-known women's apparel business that specialises in both casual and elegant Abaya and hijab styles.
In addition, the abaya style is quite comfortable and reasonably priced.
Alamalshop provides you more options for selecting the greatest diversified styles and attractive colours for summer, spring, autumn, and winter.
Alamalshop is a famous brand of women's clothing, specialising in Abayas and hijab fashion, both casual and classic. Also, the abaya design is very comfortable and comes at a good price.
Alamalshop gives you more freedom to choose the best diverse designs and different beautiful colours for summer, spring, autumn, and winter.
Both abaya collection in Egypt and the United Kingdom have a wide range of options. because many sites and shops are available online. Allowing Muslim women to purchase Egyptian products.
Alamalshop Abaya is a abaya shop in Egypt with a wide range of products based on Islamic cultural and traditional lines.
Fabric care
Easy clean wash machine
iron need sometimes
What's included in the package: one piece, two belt
Buy now
Cash in delivery in Egypt only
shipping 1-3 day delivery
24 hours track number
easy cancellation
Refund & return 14 days in Egypt only
If any more question ask us directly
Please, Call us +201003715333 or whats up
following Alamalshop on Facebook and like us
| | |
| --- | --- |
| Weight | 0,2 kg |
| Dimensions | 50 × 30 × 1 cm |
| Type | |
| Pattern | |
| Fabric Type & Material Composition | |
| Embroidery | |
| Size | |
| Color | BLACK, Blue, GREEN, Purple |
| Occasion | |
| Neck Style | |
| sleeve Length | |
| length | |
| Target Group | |
| Brand | |
| Production Country | |
Only logged in customers who have purchased this product may leave a review.
Write a review