Abaya Noir Casual For Women
7,96$
Brand: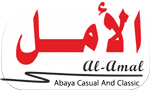 Alamalshop
Abaya noir One size Fit from 60 to 110 kg
Good look & Comfortable
---

Abaya Noir Casual Style For Woman
With their comfortable, flexible design, these Abaya Noir are the most popular printed Abayas for women looking for plaid and brightness.
You find your flow in these women's clothing items that are soft, tough materiel and modern abaya noir stylish.
This abaya noir is made to be breathable and comfortable, as well as fashionable.
Feature
Sample Design
Abayas style: A Woman's Casual Look
Excellent visual appeal and inventive design.
comfortable and flexible design.
maxi length and width
Plaid
half sleeve
cotton/polyester blend fabric
beautiful lovely colourful option
Abaya noir: Casual
brand: Alamalshop
Every day using
wear accessories with it.
One size fits all, from 60 kg to 110 kg.
Pattern plaid gives a good impression of your appearance.
The most recent abaya designs for all occasions, such as festivals or receptions for family and friends.
Useful Abaya, casual women's clothing for every day use.
The sleeves are half length. It is suitable for wearing with a hijab style and a scarf.This gives you more freedom in terms of colour selection. a wrist stretch
Your accessories, such as sunglasses, are also important.
Abaya noir include lovely printed plaids and Excellent colour coordination.
Fabric materials with a cotton texture, on the other hand, are quite pleasant and of excellent quality.
Looking at details, creative designs are very interesting and excellent when printed.
Fashion trends: A woman's casual look differs greatly between plain black abayas and many different coloured abayas.
The Latest Abaya noir Designs For A Stylish Look So ladies, We have some exciting news for you. We are currently introducing the new model collection, 2021 Abaya.
Muslim women wear an abaya noir on top of their garments. before leaving the house as a display of modesty according to their faith. Abaya was formerly used.
What is abaya?
The abaya is one of the most important clothes for women in Islamic culture.
Abaya is a loose-fitting robe that is worn around the body and covers everything except the face, hands, and feet.
Alamalshop Online Store has a variety of traditional and modern abaya patterns.
The abaya and hijab have already gained a lot of traction among young women.
Young girls, teenagers, women, and other females are all happy about wearing the abaya and hijab, Because they find it comfortable.
If you are new to the Islamic dress world, you could have a hard time distinguishing. Between all the titles and knowing what they mean.
Every type has a purpose and makes sense, with some being more moderate than others. In a summary, this is an introduction to Islamism.
It is currently considered a new fashion trend and a new style.
Females in all parts of the world have also selected it as their preferred fashion trend. Most women worldwide now wear an abaya with a hijab.
What exactly is a blended Abaya?
The abaya is a blending of the best of both worlds. On the one hand, it is a cultural and religious icon. It has been used for generations as a cloak to cover a woman's modesty.
It has evolved into an elegant and trendy addition to any wardrobe.
What is Brand Alamalshop?
Alamalshop is a famous brand of women's clothing, specialising in Abayas and hijab fashion, both casual and classic. Also, the abaya design is very comfortable and comes at a good price.
Alamalshop gives you more freedom to choose the best diverse designs and different beautiful colours for summer, spring, autumn, and winter.
Both abaya collection in Egypt and the United Kingdom have a wide range of options. because many sites and shops are available online. Allowing Muslim women to purchase Egyptian products.
Alamalshop Abaya is a abaya shop in Egypt with a wide range of products based on Islamic cultural and traditional lines.
What is the Abaya trends?
These Abayas caught our eye and are perfect for casual wear and a trendy morning look. They are also very comfortable and appear to be casual. They can be worn both in the morning and at night.
The designs of abaya trends come in different ways in every season. It sometimes takes more than one year to reach the top of the abaya trend. And still more than 4 years on average in the first trend. It is highly ranked and sold in many shops.
Fabric care
Washing machine that is simple to clean.
Iron is sometimes required.
What's included in the package: one piece.
Buy now!
Cash on delivery in Egypt only.
Shipping takes 1-3 days.
You will be given a tracking number that will be valid for 24 hours.
Easy cancellation
Refund & return 14 days in Egypt only.
If you have any further questions, please contact us directly.
Please contact us at +201003715333 or via Whatsapp.
Please contact us at Call us +201003715333 or via whatsup.
| | |
| --- | --- |
| Weight | 0,2 kg |
| Dimensions | 50 × 30 × 1 cm |
| Type | |
| Pattern | |
| Fabric Type & Material Composition | |
| Size | |
| Color | Plum Purple, RED |
| Occasion | |
| Neck Style | |
| sleeve Length | |
| Target Group | |
| Brand | |
| Production Country | |
Only logged in customers who have purchased this product may leave a review.
Write a review