Abaya Fashion store online Casual For a Woman
13,00$
Brand: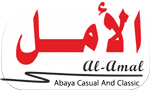 Alamalshop
Estimated Delivery: Oct 03 – Oct 05
---

Abaya Fashion store online Casual For a Woman
Abaya semi embroidery like handmade features high density
Perfect for the beach or the city, you'll be dazzling in this stunning garment that shows off your sense of style

The design of woman clothes come with summer and spring colors for a more excellent look

you find your flow in these woman's clothing soft tough materiel and modern stylish

This Abaya

Fashion store online

with high-density embroidery is designed for looks and ease, made to be breathable, and built for comfort.
Feature
Best style

Embroidery feature


Perfect comfort wear

embellished abaya pure luxury

full sleeve

long length maxi

solid

fabric good mixed cotton

Colors beautiful choose black, white, dark red


type: abaya casual

brand: Alamalshop

every day using

wear accessories with it
Pattern solid
with embroidery feature gives an Excellent impression for your appearance all occasions like going to beach and club or Reception your family and friends.
also, walk on the Corniche
Useful Abaya Fashion store online with embroidery casual Woman's clothing for everyday use.
full sleeve Can wear with
 hijab
and 
scarf.

besides, the sleeve really enhances the simple elegance of this dress.

also your accessories like sunglasses on the walk to the sea
Embroidery high density – Beautifully coordinated colors, excellent.
On the other hand fabric material mixed with cotton textured is very comfortable and high quality.
The abaya fashion store online design Looking of details are very excellent and magic with embroidery wool for summer and spring. the Abaya with Embroidery high density will give you the feeling of a nomadic spirit.

Fabric care
Easy clean wash machine

iron need sometimes
what in the package: one piece

Buy now
following Alamalshop on Facebook and like us
Only logged in customers who have purchased this product may leave a review.
Write a review